A very important part of a healthy marriage begins in the bedroom. Use these tips to keep it alive and well.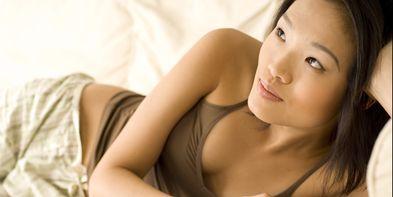 ---
"
Too little time is a never ending excuse for lack of effort. So instead of telling yourself there is no time, make time."
When it comes to marriage, many couples often expect their sex lives to take care of themselves—the reality is that it is an important aspect of relationships that needs tended to like anything else. If you never changed the oil in your car, would you be surprised when the engine stopped working? Once we realize that a boring sex life is not a broken sex life, that's when we can start working toward improving intimacy in our relationships.

The following are five ways to keep that passionate spark alive now and throughout your marriage:



1. Intimacy is more than just sex.

Touching your husband in sexy ways outside the bedroom—a squeeze here, a massage there—will remind you both that the bustle of daily life can give way to the rustle of nighttime get-togethers. It's important to remember that intimacy doesn't just occur in the bedroom. Set aside special times to be intimate with one another, for example, cooking together, setting aside times to give each other massages, reading to one another, dance lessons, etc. It is so easy in this busy world to become like 'business' partners or roommates, each of you attending to the daily tasks of running a home, family and a career.



2. Communicate.

Let your spouse know your sexual likes and dislikes in a non-confrontational way. The more both of you become more comfortable communicating your needs, the more likely you are to experiment and try new things—no one is to blame for a stale sex life but those who give up on their sex lives without giving it their all. And remember, in a marriage, you're more than lovers, you're also best friends; communicating on a friendship level means always choosing your words and actions with respect and care and always approaching one another in an open and honest way.



3. Make a special effort!

Too little time is a never ending excuse for lack of effort. So instead of telling yourself there is no time, make time. Let someone else pick the kids up from school, get takeout instead of making dinner, and take the trash out in the morning without guilt. Also, allow yourself time to relax and reflect as an individual. This will make it easier to unwind and reconnect with your inner thoughts and emotions, thus making it more enjoyable to relax and enjoy your spouse. Do not take for granted the power of a simple soft touch, a romantic dinner or a bubble bath together. These are moments that preserve the intimacy that is so essential to a satisfying life with one another.



4. Creating more playful relationships is a good first step.

I've been working in the business of creating romance for couples for years. There's no doubt that having fun and flirty products in the bedroom will give your love life that extra boost. For example, we all know the bedroom is a couple's safe haven, but that doesn't mean all of your romantic interludes need to begin and end there. Why not lay out a soft blanket in the living room, light candles and celebrate your relationship with a bottle of champagne and strawberries. After years of being intimate, many couples become almost robotic in their attempts at foreplay and intimacy. For example, there's an all-natural soy candle that melts into a soothing massage oil and is a great way to get both of you touching and massaging each other with affection and desire.



5. Override predictability.

One of the biggest stumbling blocks to romance and intimacy is the tendency to become a slave to routine. It's easy for couples to get comfortable, never venturing out to try new things, or worse, never exploring new territory within the landscape of their relationship. Any activities that will encourage change and growth will more than likely bring the spark back from those endorphin-filled courtship days. While being predictable is comfortable, it isn't exactly an aphrodisiac! Shake things up by each of you making a list of 10 things you would like to try in or out of the bedroom and placing all of the ideas in a hat. Draw a couple per week from the hat and replenish monthly; this is sure to keep the excitement going all year long.

Patty Brisben, is the CEO and Founder of Pure Romance (www.pureromance.com). For more than two decades, Patty has been educating and empowering women all over the country about sexual health and relationship enhancement. Today, Patty speaks, lectures and writes about a wide range of issues. Drawing from extensive research in the industry and using her warm and engaging personality, Patty has become a noted expert in the fields of intimacy and relationships. Patty has been quoted in several magazines including Self, Women's Health, Glamour, Redbook, Men's Health, Details, US Weekly, In Touch and Life & Style.